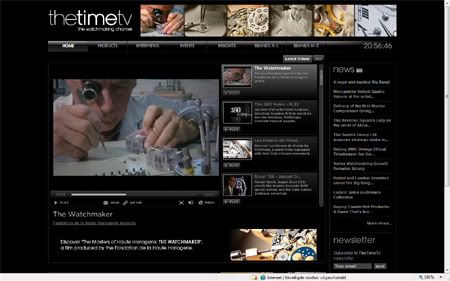 So you find yourself with a few extra minutes at the end of the day. What should you do? Watch the ending of the game? Start a new chapter in the book you're reading? Or maybe, watch some great videos about some of the most luxurious watch brands in the World on
TheTimeTV.com
, well you know what I would do.
TheTimeTV.com is the first themed channel for Watchmaking enthusiasts and professionals. New products, interviews, events, insights - TheTimeTV covers the latest Watchmaking industry news through exclusive reports and interviews.
TTTV.com offers broadband videos that focus on luxury watchmakers, products and events. It is quickly becoming one of the leading websites in terms of exposure for the industry. Most recently, they have partnered with
horologerie.com
, the luxe timepiece information portal. Videos can be found on both sites.
One can find great information on a number of different brands both widely commercial (ie; Ebel) to the relativley unknown (ie: Villemont) from the watchmakers themselves. Interviews with industry CEOs and Presidents as well as footage from the World's most exclusive events are right there at the click of a mouse.
So if you are not sure what to do with those precious few extra moments that you have, spend them at TheTimeTV.com, I am sure you find "The Time" to come back for more. (
Oh, that was so bad it was good!!)