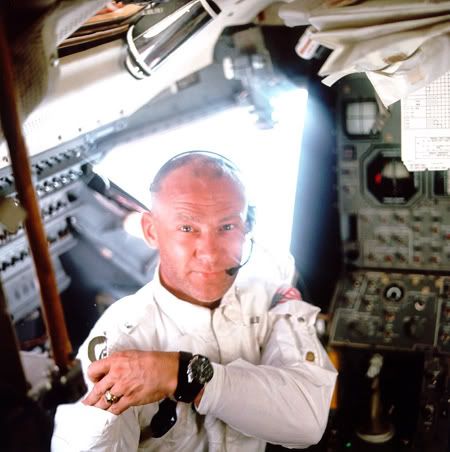 I would say that my morning routine is pretty much the same as everyone else. I slowly pry my eyes open and rub out the tiredness. Then I grab a cup of coffee and some toast.Trudge my way into the shower, brush my teeth and then select my shirt and tie combo. Finally, I match up a perfect timepiece. What...that doesn't sound like your morning? OK...maybe you prefer a bagel.
I think that for all of us WIS (Watch Idiot Savant's) selecting the perfect watch is just as important to us as the right pair of shoes and bag for a woman. I know that with today's slim fitting styles of suits for men making fashion headlines, wearing a
bulky watch
can be a bit overkill and slimmer watches are usually associated with Wall Street types. The truth behind it all is...wear what makes you feel happiest.
If you are happy with that circa 1975 Omega Moonwatch with your pinstripes or your brand spanking new Patek Philippe Calatrava with your Casual Friday khakis...go for it! I have the ability to choose from 3-4 different pieces every morning (more if I invaded my friends jewelry store the day before) and I never like to wear the same thing two days in a row. It makes me feel bad for the ones I left behind.
So strap one on, it doesn't matter which and head out for work tomorrow knowing that you made the right decision.
Now where's that cream cheese...??